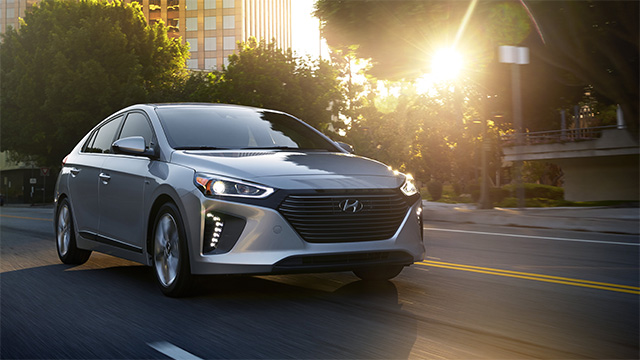 Overview
Owning a hybrid car can be a delight, but for first-time hybrid buyers, it is important to know what to look for and what you might be getting yourself into. This year, Hyundai is releasing the 2018 Hyundai Ioniq Hybrid, which is currently being hailed as the regular and plug-in hybrid of the year, besting even the industry's giant, the Toyota Prius Prime. The Hyundai Ioniq pulls leaps and bounds ahead of its competitors since its three models (the Ioniq, Ioniq Hybrid, and the Ioniq Hybrid Plug-In) offer a lot of choices that will appeal to different drivers. If you are looking for a vehicle that gets astoundingly good gas mileage and is an all-around well-performing vehicle, you should look into contacting a Denver area Ioniq dealer. To save you the hassle, contact Arapahoe Hyundai, a Denver area Ioniq dealer serving Denver and surrounding areas. The 2018 Hyundai Ioniq Hybrid for Denver CO is a smart purchase for drivers with many different needs.
Interior
One of the biggest reasons the Hyundai Ioniq Hybrid is making 2018 hybrid news is that its interior design is impeccable. There is plenty of room in the vehicle with 39.1 inches of head room in the front and 37.4 inches of head room in the back. There is also a decent amount of leg, should, and hip room in the front and rear of the Ioniq Hybrid, so adults and children of any size should not feel too crammed in. The vehicle has a total passenger space of 96.2 cubic feet and an additional 26.5 cubic feet of cargo space. Standard features on all trim levels of the 2018 Hyundai Ioniq Hybrid include a dual automatic temperature control with automatic defogging, 6-way passenger seat with seat height adjustment, a tilt-and-telescopic steering wheel, and audio, Bluetooth and cruise controls mounted on the steering wheel. The line-topping Limited trim has a leather interior and an option for the Integrated Memory System (IMS) for the driver's seat. Additionally, the two higher trims feature a 10-way power driver seat with power lumbar support and heated front seats. Drivers can also enjoy a Bluetooth hands-free system with voice recognition on all trim levels.
Exterior
Are you still deliberating over contacting Arapahoe Hyundai, which is serving Denver? The Ioniq Hybrid has been making 2018 hybrid news for its sleek exterior design which gives it a contemporary and upscale vibe. The Ioniq Hybrid's body features active grille shutters, dual manually-folding body-color power side mirrors, solar control glass, LED taillights on the two higher trim levels, and HID headlights on the line-topping Limited trim. The headlights are horizontal and slanted, reflecting a trend to make Hyundais look much more sophisticated and European-looking in their exterior presentations.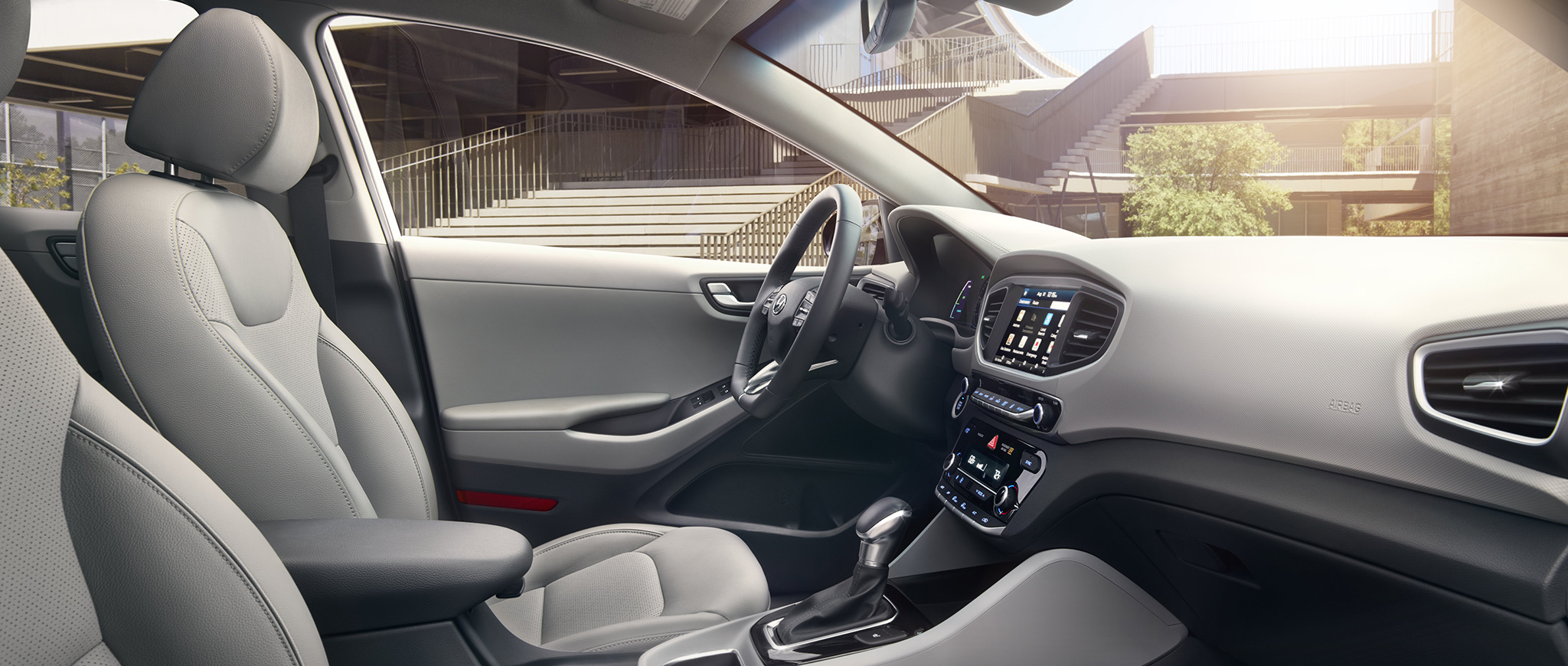 Mechanical
If you like to kick it into high gear and feel the thrill of a sporty drive, the Ioniq hybrid comes with Sport mode to really amp things up on the highway. The Hyundai Ioniq Hybrid also features Apple CarPlay and Android Auto for all of your smartphone app integration needs. Important driver information is displayed on the 7-inch touchscreen infotainment interface, which boasts a crisp and clear screen resolution and intuitive buttons and controls.
Powertrain
The Ioniq Hybrid and plug-in feature the same powertrain, which consists of a 1.6-liter inline 4-cylinder engine. The engine is nicely paired with a 6-speed EcoShift dual-clutch transmission (DCT), which helps the vehicle achieve great fuel efficiency and a smooth performance. When fully charged up and ready to go, the 2018 Hyundai Ioniq Hybrid gets about 27 miles of electric range and has a whopping 690-mile range. Hyundai does not hold back from toting the Ioniq Hybrid as the most fuel-efficient car on the American market today. The Ioniq Hybrid features a 1.6-L engine and an electric motor that generates between 40 and 60 horsepower. That battery is a bit smaller than its predecessor and frees up some space in the vehicle. The power output is about 104 kW, which is 32 kW more than the Toyota Prius.
Safety
For anyone considering buying the 2018 Hyundai Ioniq Hybrid for Denver CO, it is important to consider the numerous safety features and safety ratings for this vehicle before you commit to making a purchase. The Hyundai Ioniq Hybrid has many standard and optional active and passive safety features, including a lane departure warning system, automatic emergency braking with pedestrian detection, blind spot detection, and a rear cross-traffic alert function. There is a grand total of 7 airbags, and the 2018 Ioniq Hybrid has received bodily improvements that make this vehicle more durable in case of a collision.
If you want to test drive a 2018 Hyundai Ioniq Hybrid for Denver CO and are looking for a Denver area Ioniq dealer, contact Arapahoe Hyundai, who are serving Denver and beyond. Let them know that you are keeping up on 2018 hybrid news and are intrigued by the safety features, performance abilities, and sleek design on the 2018 Hyundai Ioniq Hybrid. Forget test driving the Toyota Prius and allow yourself to experience the joy of saving as much fuel as possible in the Ioniq Hybrid.