Overview
Arapahoe Hyundai is proud to feature the new models for the year 2018. These models will be a great fit for the Denver area, as well as the rest of the state. We are serving Denver Centennial Littleton Colorado, and have models that will work for every Coloradoan's busy lifestyle.
Among these is the 2018 Hyundai Sonata Limited. This new offering from Hyundai features a newly designed exterior and updated interior with reimagined dashboard and steering wheel. With improvements made to the cars inner workings as well, and updated safety features, the new Sonata is a strong jump into next years models.
Interior
The 2018 Hyundai Sonata Limited features the best of both worlds when it comes to interiors. With a sleek leather interior that brings to mind the best of old-school sports vehicles, as well as a touchscreen that brings us firmly into the twenty-first century. The new models come equipped with both Apple CarPlay and Android Auto Connect as a standard, as well as a seven-inch screen on the basic models, which upgrades to eight inches on the sport. That GPS will come in handy in busy city areas, as most Denver Area drivers are wary of a maze of one-way streets. The steering wheel has also been redesigned for the sport model as well, with a flat bottom that will appeal to the speed demon in all of us. There's also a few little extras for passengers, with multiple USB ports to make sure everyone's phone can get a little extra juice. No more fighting over the car adapter charger!
Exterior
The Sonata Limited has been a feature in Hyundai's line up for years, and in this new iteration, they've revamped some of the exterior features. The focus was on making this model even more visually attractive, as well as They started by reimagining the front grill - making it more like the Hyundai Elantra - with a more in your face attitude. The grill now takes up the majority of the car's front, with its side vents becoming much more prominent as well. The placement of lights in the grill itself makes the piece a real stand out. The back of the car has also been redesigned, with a new bumper and tail lights that only add to the Sonata's strong visual lines.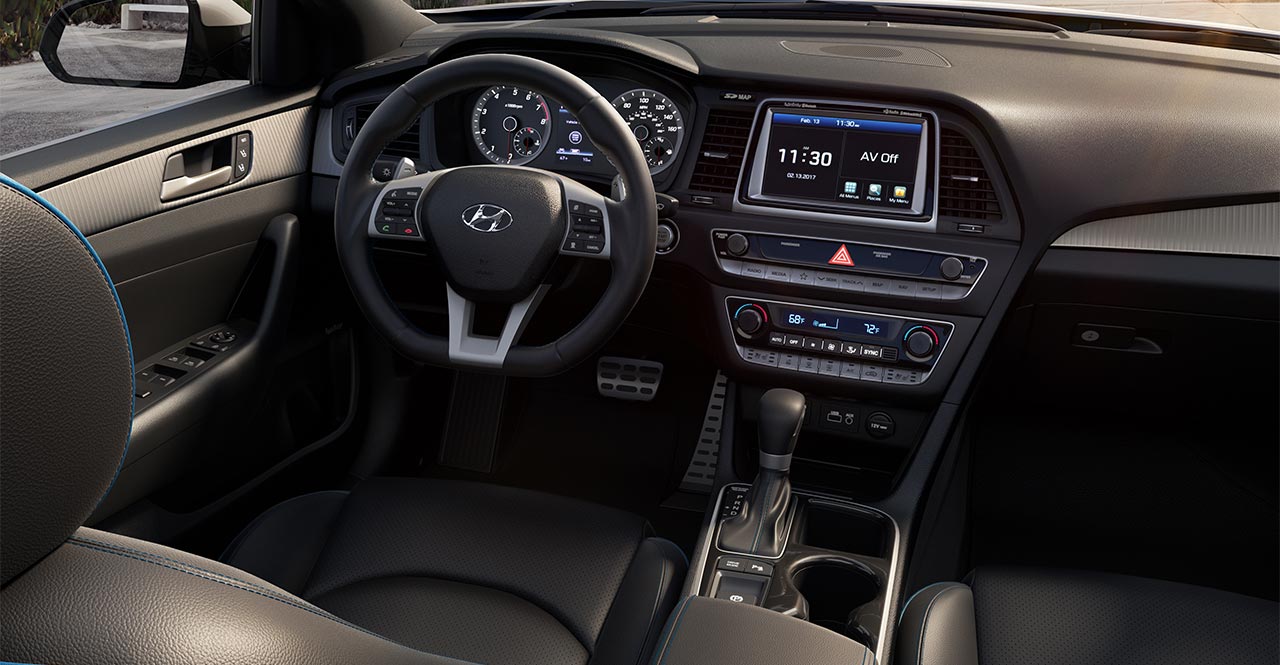 Mechanical
Mechanically, the 2018 Sonata Limited is improved on last years model. The suspension has been strengthened, a real attribute for Denver Area drivers who might want to venture off the beaten path a little. The steering system boasts a much-improved torsion bar, which leads to more efficient steering, and less work for you while in the driver's seat. There's also the new and improved cruise control feature to ease pressure on your left foot. Turbo models come with a little something extra, a smart mode for the transmission. This gives the transmission the ability to cycle through different modes depending on the environment you're driving in. There's Turbo for highway, Comfort for heavy traffic or inner city driving, and Eco for those long stretches of road where you don't have to hit the brakes or adjust speed frequently. Both features should increase driver efficiency, and give you some much-needed help at the gas pump.
Powertrain
Even with all of these new, exciting features, Hyundai hasn't compromised on power in their 2018 models. The 2018 Hyundai Sonata Limited features the same beefy 184-hp it had last year and is capable of 178 lb-ft. The Turbo model boasts, even more, power with a 245-hp engine, and 195 lb-ft capabilities. This is great news for the Arapahoe Hyundai driver, as the dealership is serving Denver Centennial Littleton Colorado. In a state where four-wheel driving is synonymous with weekend getaways, a strong suspension and a powertrain that can hold it's own is always good news.
Safety
The Sonata Limited is also a leader in safety features this year. This model features both blind spot monitoring, and rear cross-traffic alert standard. These are two of the most requested safety features, and their inclusion is aimed to give drivers peace of mind. Another key safety feature, lane keep assist is now available on all models and included standard on the Turbo model. This new emphasis on safety is something that is becoming more and more common in this market, especially with passenger sedans. Strong safety features give drivers peace of mind and a sense of ease about hitting the road, whether they're in a busy city, or a back road highway.
For a car with the sensibility of a passenger sedan and the powertrain capability of a sports car, your Arapahoe Hyundai is the place to go. We are serving Denver Centennial Littleton Colorado and the 2018 Hyundai Sonata Limited is a perfect fit for Denver area drivers. It can take from the city to the foothills with ease, as well as being perfect for grocery runs, soccer games, and anything else your busy life might have to offer. If you're in the market for something new, or are just interested in upgrading your current model, drop in and see what we can do for you!