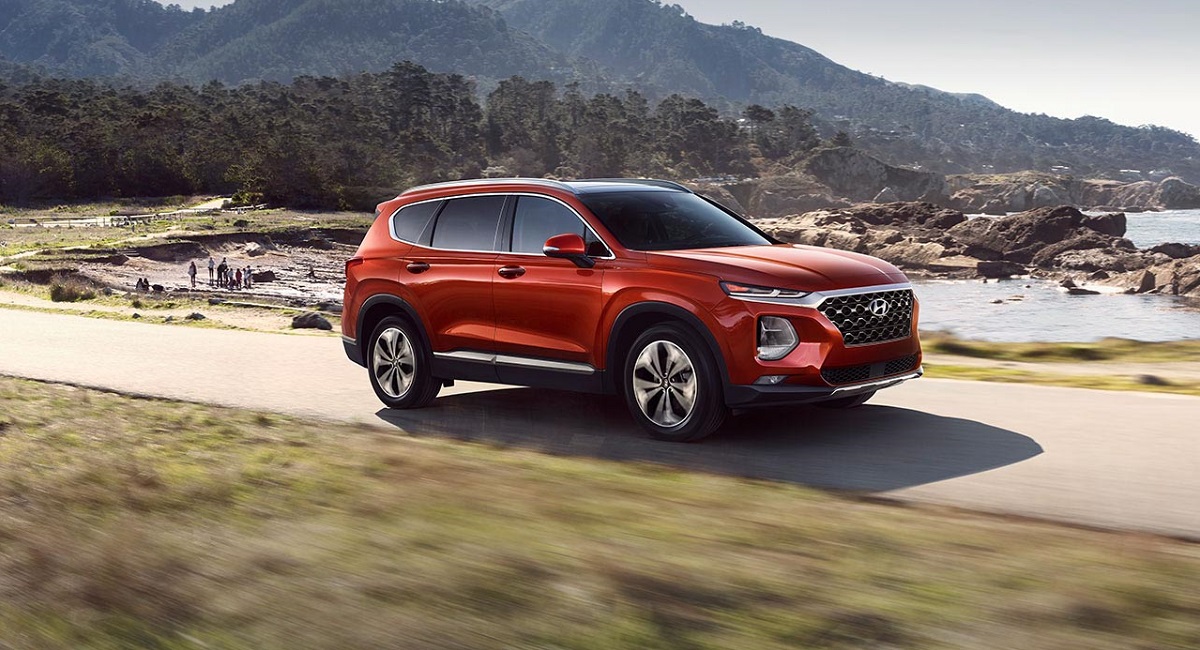 *Not actual vehicle
Hyundai Santa Fe Lease Specials and Finance Offers in Centennial Colorado near Denver
Why Buy or Lease 2019 Hyundai Santa Fe in Centennial Colorado
The incredible new Santa Fe does not change too much when compared to the 2018 model, but it has been wonderfully updated to make sure that the fabulous new version of this ideal vehicle will never be forgotten. In the United States of America, families have now shown that they prefer this new Santa Fe from Hyundai for 2019 more than its rivals. But to compete with premium models, it is imperative to notice that the talented designers that work for Hyundai had devoted an unusually high level of attention to the choice of materials and their decisions cannot be criticized. With the latest edition of the Santa Fe, you'll quickly get familiar with the car's many controls, and everything is entirely in place. The whole thing is compelling and pleasant to look at and to use, and it does not even lack any refinement.
*Not actual vehicle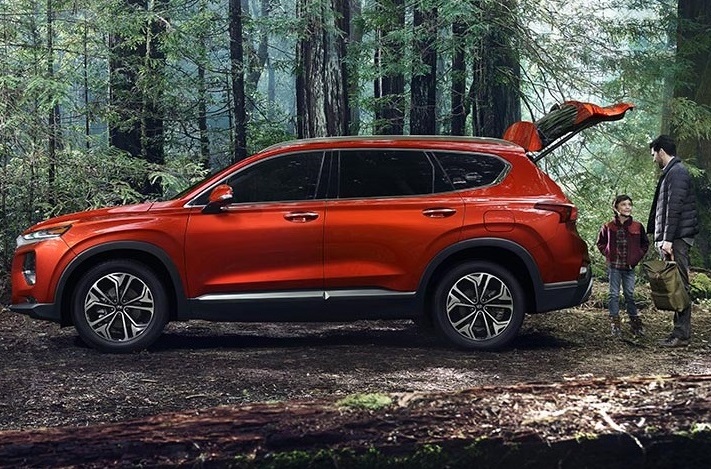 Exterior - Hyundai Santa Fe
The current generation, presented in a few motor shows, launched the manufacturer's new visual identity, which is gradually building an aligned and coherent range. Its size stands out with its impressive width, length, and height, while its discreet but slightly refined look has everything to please a large variety of diverse kinds of drivers. This new Santa Fe from Hyundai for 2019 is the perfect thing to show off in a country where an SUV is useful to show that you have had a successful career in front of your colleagues. In addition to its attractive physique, the Santa Fe is also able to indeed count on a formidable equipment/price ratio. The new Santa Fe from this Korean organization now stands out as a high-quality vehicle, and this Santa Fe is a worthy challenger to the Mercedes-Benz GLC, Volvo XC60, or Audi Q5. This grille also has more strength and aggressiveness than ever before.
*Not actual vehicle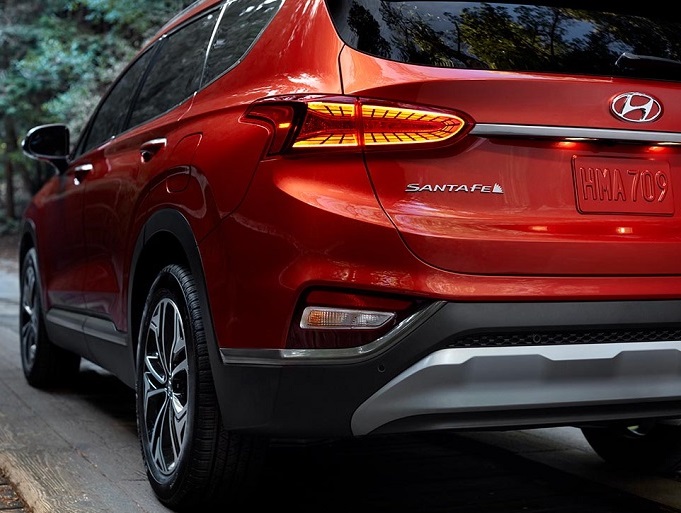 Interior - 2019 Hyundai Santa Fe
Although already much better than its Japanese rivals, it is also now perfecting its equipment like a premium SUV, especially with regards to the parts which were used in the cabin. Beige upholstery is fortunately available on the premium finish levels. This new Santa Fe from Hyundai for 2019 is the fourth generation of this exceptional SUV, and the Korean engineers behind the Santa Fe have shown that they wish to take over the American automotive market. This SUV was presented at a few motor shows, it also has a bench that slides, and its backrest is tiltable. The look of the Santa Fe has, therefore, become more luxurious (some people find it to be at the premium level) and the Santa Fe now enjoys a confident presence that logically accompanies the SUV's new positioning. The ventilated and heated seats at the front are covered with a high-quality thick beige perforated leather and at the back too, and I should say: "Thank you very much Hyundai."
*Not actual vehicle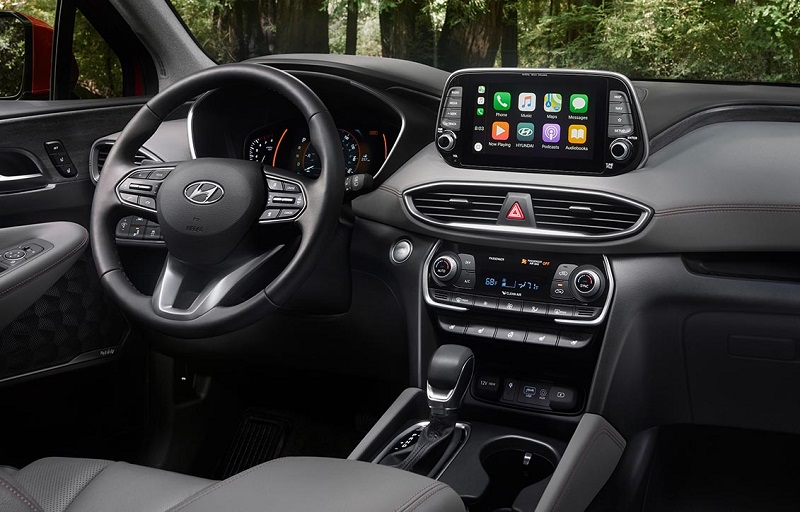 Mechanical - 2019 Hyundai Santa Fe
Already appreciated for its low fuel use and quiet operation, this SUV is now becoming even more pleasant to use, even in the city. The performance remains impressive given the size of the machine. This SUV has become an elite automobile, and the Santa Fe has also improved when you compare it to the old version. This top-of-the-range SUV even has the luxury of being more impressive than a Toyota. With a high-level of ground clearance and bodywork with plenty of protection, you should expect to be able to use the Santa Fe to take your little family out for some wild driving sessions that will display the off-road capabilities of this SUV in the middle of a few wide open spaces.
*Not actual vehicle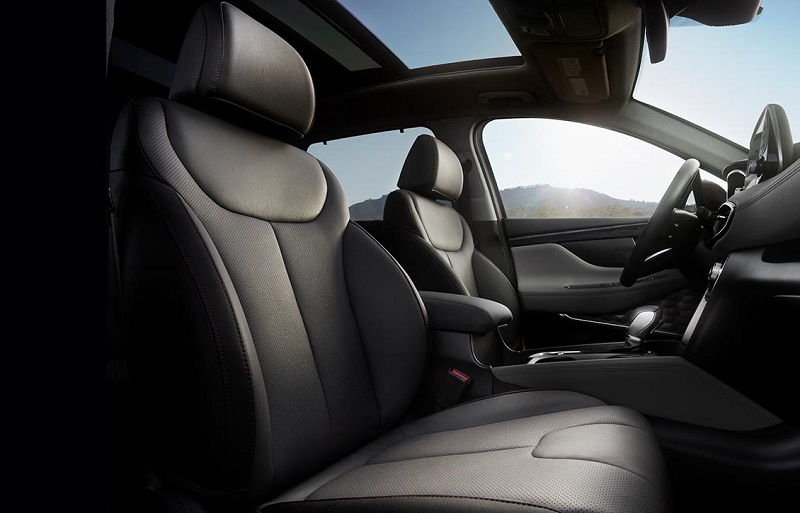 Request 2019 Hyundai Santa Fe Specials in Denver Colorado
The flexibility of its engine is very pleasant, as shown by its torque. The Santa Fe is above all excellent on the highway. It is fully equipped with a 360° camera, heated and ventilated leather seats, a head-up display, and a hands-free power tailgate. The new Santa Fe from Hyundai for 2019 handles itself very well, provided, of course, that you put on the right tires. The Santa Fe drives quietly, and I enjoy cruising around and the panoramic roof, thus I appreciate the dynamic qualities provided by our Korean friends.
Now that you have learned a bit more about the Hyundai Santa Fe, you should call up our dealership today. Also, the sales figures of the Santa Fe should remain impressive in the United States of America, knowing that this superb vehicle offers motorists a lot of advanced features. The most recent version of the Santa Fe provides travelers an incredible SUV that has a very unprecedented level of overall style.