New Hyundai Why Lease 2019 Hyundai Santa Fe near Colorado Springs near Denver l Centennial CO
hy Lease 2019 Hyundai Santa Fe near Colorado Springs
View Inventory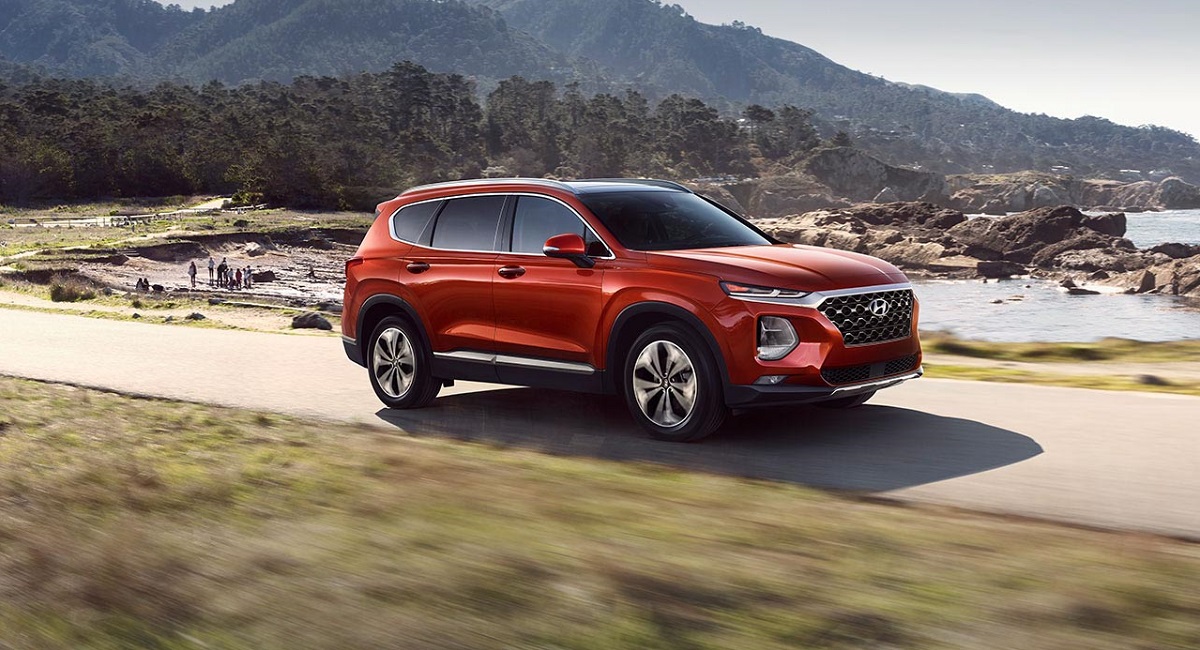 Vehicle Overview
You may be wondering why lease 2019 Hyundai Santa Fe if you are in the market for a new vehicle. This particular model offers quite a lot of features that make it an ideal choice for individuals and families alike. You can find the vehicle near Colorado Springs at your local Hyundai dealership. When you choose to lease near Colorado Springs, you're able to give the vehicle brand and model a try without committing to actually purchasing it for yourself. With so many lease specials at Arapahoe Hyundai, it has never been easier for you to find the car of your dreams and drive off the very same day.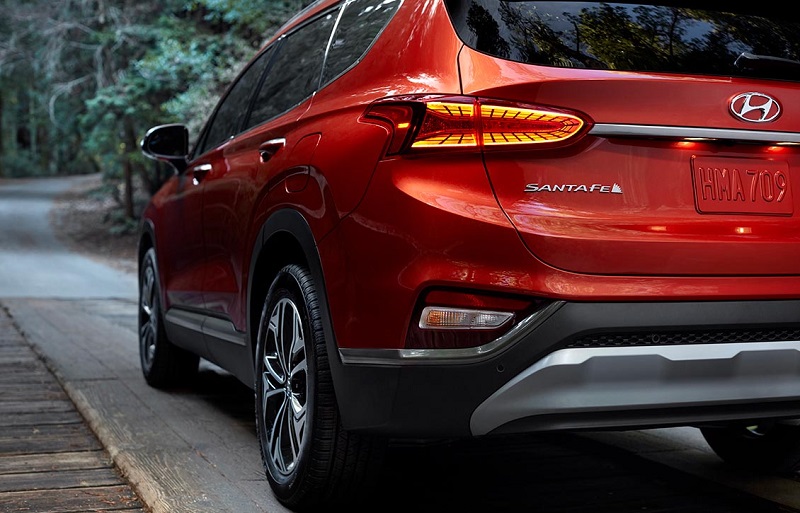 The 2019 Hyundai Santa Fe packs quite a punch when it comes to roomy interior, high horsepower and an incredibly sleek outer design. It is a large enough care that is fantastic for families, but it is not too big that it isn't also a great choice for those who live or drive alone. The 2019 Hyundai Santa Fe has become a favorite for those who enjoy the Hyundai brand and it is why so many people have switched over to it from other cars they might have come to live.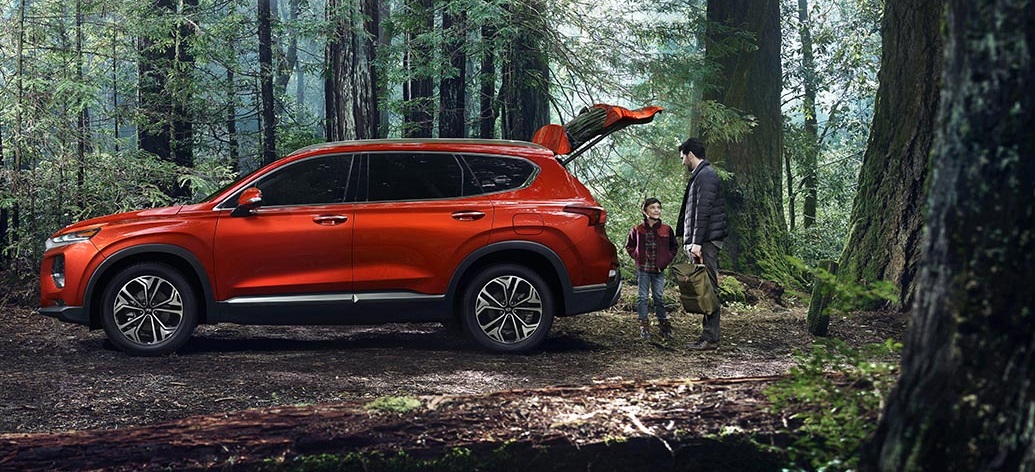 Interior – 2019 Hyundai Santa Fe
The interior of the Santa Fe is spacious and convenient. The Heads-Up display enables drivers to see important information in front of them rather than having to continually look down at the dashboard. The enormous trunk is great for work and everyday life, giving you more than enough room for groceries, suitcases and anything else that life has to throw at you. Depending on the specific model you choose, you will experience beautiful interior trim and color that matches the exterior of the car. The available panoramic sunroof is ideal for adding light and beauty into the car. The wire-free mobile charging station is great for on-the-go charging. The vehicle can comfortably hold five passengers.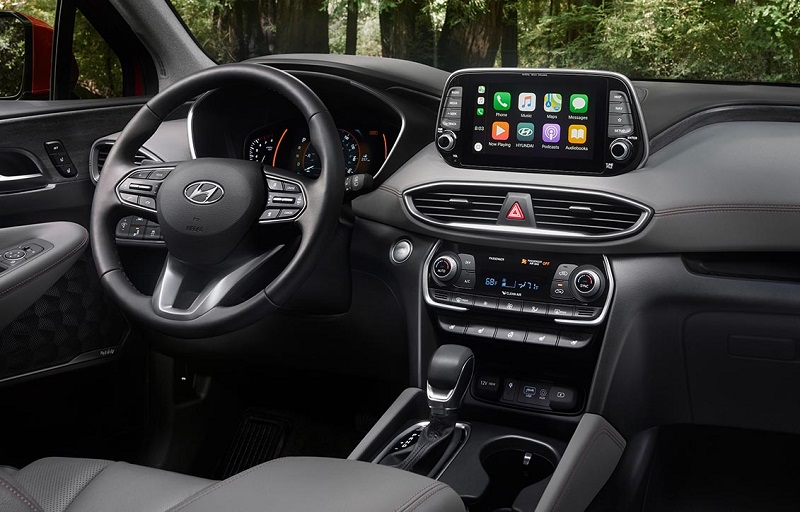 Exterior – Hyundai Santa Fe near Colorado Springs
While you make the decision to lease near Colorado Springs, the exterior of the Hyudai Santa Fe is gorgeous, sleek and modern. The available touch-free lift gate on the trunk makes it easier than ever to put items in without needing to get your hands dirty. With a wide range of gorgeous colors to choose from, this particular model can match your style and life without it looking too bright or metallic. The front grille is matches with glorious LED headlights as well as LED foglights, making driving easier than ever no matter what the current road conditions. All models can be upgraded as needed to truly match your lifestyle needs.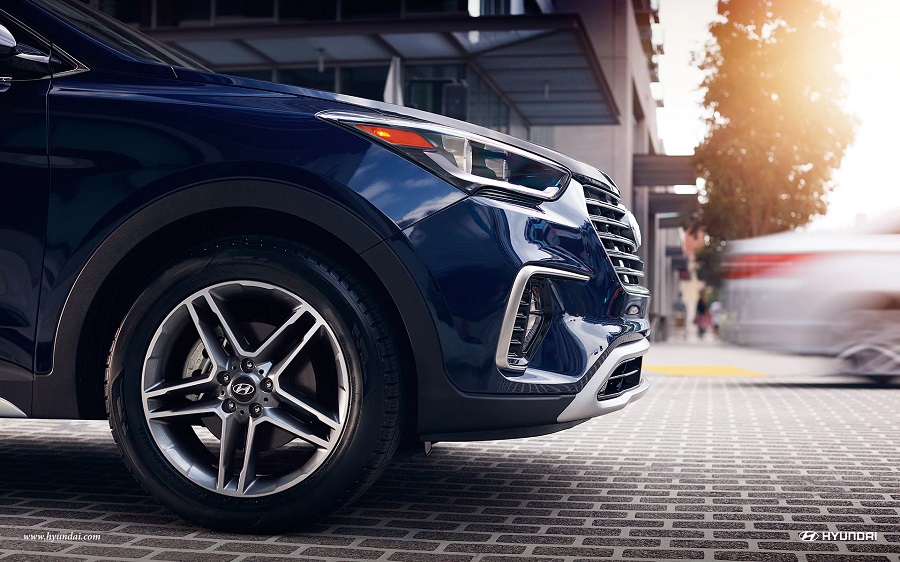 Mechanical – Hyundai Santa Fe specs near Colorado Springs
The HTRAC AWD gives drivers added control no matter what the current road condition. This makes for a safer and more reliable vehicle that is essential for the family and daily commute. The blind spot collision warning is important for preventing a crash when switching lanes or being alert of people next to you in the blind spot. Lane keeping assist is an essential part of driving, as it helps you if you're swerving into the next lane. Smart cruise control is important as it helps to slow down your vehicle as it senses a car in front of it to maintain a reasonable and safe distance.
Powertrain – Hyundai Santa Fe specs near Colorado Springs CO
The vehicle is available in both manual and automatic, which a variety of options available to make driving easier, safer and more convenient. With a 6-speed manual option, drivers can quickly switch gears without it becoming a problem or without the worry that they are stripping the gears. The automatic option has a feature known as Shiftronic, which helps to safely and quickly switch gears automatically while driving. The Inline 4-cylinder engine is essential for getting up to speed quickly and without any delay in pickup.
Safety – 2019 Hyundai Santa Fe dealer
Some of the safety features on the 2019 Hyundai Santa Fe include adjustable seat belt holsters, power window lock-out buttons, electronic stability control and blind spot collision avoidance assist. The car is also equipped with the Heads-Up technology, which places information from the dashboard onto the front of the vehicle so that it can easily be seen without looking down. The tire pressure monitoring system enables drivers to know when and if they are low on air before continuing to drive.
Why Lease 2019 Hyundai Santa Fe?
If you live in or near Colorado Springs, the Hyundai Santa Fe is an amazing option for your everyday driving needs. You will find a variety of lease specials at Arapahoe Hyundai so that you can get into your new vehicle and be on the road in no time. With a gorgeous and sleek exterior as well as a roomy and high-end interior, this particular model is one of the best available to those who want a more convenient drive without the heavy expense of other brands and models. Be sure to contact the dealer to begin the process of test driving the Santa Fe. With affordable financing options and leasing available for most makes and models, you could be driving away in your dream car today without the worry that you are unable to find what you are looking for. The 2019 Santa Fe has the safety features and mechanical options that make the brand and model a great choice for any and all of your driving needs, whether the car will be used for commuting or if it's going to be used for family outings.